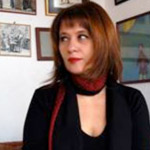 She was born in 1957.
1979 She was graduated from the Bosphorus University, Department of Marketing
1979 She was enrolled in the Department of Painting, Sculpture and Decorative Arts, Istanbul State Fine Arts Academy.
1985 She was graduated from Prof. Neşet Günal and Neş'e Erdok`s Workshop
1999-2002 She started to work as an university lecturer in Design and Costumes Department at the Faculty of Fine Arts at Mimar Sinan University

Awards:
1984 100th Anniversary Group Painting Exhibition", Istanbul State Academy of Fine Arts, Pamukbank Prize
1985 "Young Artists", Student Competition Exhibition, Honorable Mention
1985 Honorable Mension in "Young Painters Painting Competition"
1984 Pamukbank Incentive Award in ISFAA 100th Year Painting Exhibition.