Federico Severino: The Tension of Between Two Poles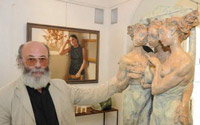 With his complex and eclectic personality, work of Severino on one hand, cultivated wanderings in the labyrinth of art, seeking suggestions, never quotes: the solemnity of an Etruscan sarcophagus, a detail found in a particular Baroque piece, a horrified expression stolen from a passage from Dante in a 14th Century sculpture, the pulsating vitality of the material in a Merardo Rosso or a Rodin, the exasperated deformity of expressionism. On the other, Severino's sculptures are marked by a fervid inventive capacity which works best describing the darkest dimensions of the soul, the secret rooms of the subconscious, ready to give form to ghosts and aspirations which inhabit the eternal night in the human soul.
Being born on 1953 in Brescia, Severino executed numerous monumental works for public, religious and private organizations in Italy and abroad. Among his most recent, Way of the Cross at the Pantheon - Rome, which consists of the fourteen bas-reliefs; the door of the church in Padergnone (Bs), Christ Risen in Lipomo (Co), The Installation at the Museum of Art and Spirituality in Concesio (Bs) – a work representing the 34 Canyos of Dante's Inferno, and the bronze tribune in the Cathedral in Brescia.